DISTRIBUTED LEDGER TECHNOLOGY (DLT) in India.
Free DLT Registration
DLT Registration is Free if you had registered under DLT process in 2022. If you are looking for DLT Registration in India currently there is very minimal fees for new DLT Registration by almost all telecom operators. However, if you had already applied for DLT with some telecom operator and its activated but you had not received login details of your DLT account. You can contact our support team and we will try to get your DLT account activated free of cost in DLT Registration Process.
What is DLT ?
Distributed Ledger Technology (DLT) is a smart block-chain based registration solution. The DLT platform maintains records of every transaction made by network's participants. It is a requirement under the new regulations of the TRAI. Communications messages such as OTP or verification codes notifications, etc., that businesses send to their customers must be registered on the TRAI DLT platform.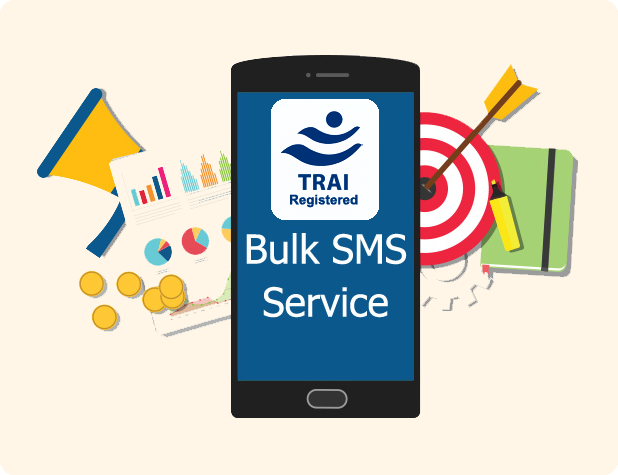 How to Apply for DLT ?
DLT Operators List
You can individualy apply to any of these operators as principal Entity to get your Sender ID (headers), Templates approved.
| Operator Name | Web Link | Click Here |
| --- | --- | --- |
| AIRTEL | | |
| BSNL | | |
| VIDEOCON | | |
| TATA | | |
| MTNL | | |
| JIO | | |
| VI | | |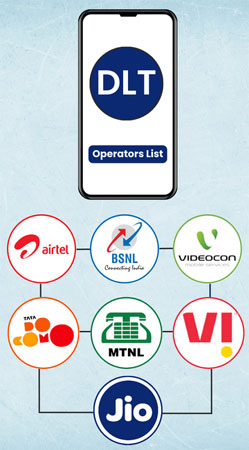 Looking for SMS Company to do DLT Registration for your Business ?
We are Approved DLT Registration Telemarketer Company
All About - TELEMARKETER / RESELLER Registration
Registration for telemarketing is a legal approval required to carry out commercial telemarketing in India. The apex body known as" the Telemarketing Regulatory Authority of India (TRAI) handles the issue of the registration. The authority is under the auspices that of Department of Telecommunications (DoT). The application must be submitted in accordance with the guidelines set by the authority, or it will be disqualified.
Benefits of securing a Telemarketing License in India
Securing a telemarketing license ensures an array of benefits for the license holders. Some of the benefits are as follows:
The license holder can perform sale services with peace of mind.
You will witness a significant spike in lead generation.
The end-users will have more trust in your services.
The business will witness sustainable growth over the year.
Who can apply for Telemarketing Registration in India ?
The following can apply for Telemarketing registration in India:
An Indian national of legal age
A firm or company functioning under the prevailing legislation such as the Partnership Act 1932, the Companies Act 2013, the LLP Act 2008 etc.
Note: the applicant (either an individual or a company) should be free from any criminal track record.
Documentation needed for Telemarketing Registration
The following documents are mandatory for telemarketing registration. The applicant is required to share these documents with the governing authority in a prescribed manner.
PAN related to the company
TAN related to the company
ROC Number
Address related to the registered office
Address proof related to the corporate Office
Turnover during the last FY
Utility bills
Contact information: Landline number
Contact information: Mail ID
Contact information related to the authorized signatory
How to secure Telemarketing Registration in India?
The applicant should abide by the following steps to secure Telemarketing TRAI registration in India:
Incorporate your company
Arrange mandatory documents as mentioned above
File the prescribed application (TM-1) with the authority concerned
Submit the Registration Fee
Let the authority (DoT) vet the submitted paperwork
DoT will issue the acknowledgment slip that will act as a "Provisional" Telemarketing registration
Note: The "Provisional" Telemarketing registration will remain valid for 3 months. If the license holder passes this tenure without incurring any non-compliance, the authority shall issue the final certificate that will stay valid for 10 years.
Frequently Asked Questions
Yes, DLT registration is mandatory for every Telemarketer, Reseller, Company and Single User.
TRAI is (Telecom Regulatory Authority of India), However, you need to contact the telecom operators such as MTNL,BSNL, Airtel, JIO (Reliance), Vodafone Idea (VILPOWER), Videocon (PingConnect) for DLT Registration.
DLT Registration is Free, if you intend to migrate from one telecom operator to another, However if you are doing new registration there is nominal one time DLT registration fees. Earlier MTNL was offering Free DLT Registration however now they are charging fees as well.
Following are key steps of DLT Registration process :
Entity Registration
Sender Id (Header) Registration
Template Registration
Process of Sender ID registration is quit simple. However you need to follow specific guidelines and steps from different operators to register your Sender ID (Header) on the DLT platform. For More Detail contact our Support Team: [email protected]
In this case you need to upload a document to prove the co-relation between your Company Name & the Sender ID (Header). If the operator or DLT is satisfied with the document of proof, your Sender ID (Header) may get approved.
Process of Template registration is quit simple. However process to get Template approval depends on the operator you choose to register with. For more information on template registration process please contact our Support Team: [email protected]
Telemarketer registration is renewal after five years approx. And fees for Telemarketer id is subject to change.
No, you have to proceed with few more steps to complete your DLT registration.
Add Sender ID (Header)
Add your service provider as a Telemarketer in your account.
If you are getting this error, it implies that you have registered before with the same credentials or your registration process is incomplete. Click on the "forgot password" and follow the instructions. If you are still not able to log in to your account, contact the support team of the operator.
No, Another Entity cannot send commercial communication related to other line of businesses as it is strictly prohibited. New TRAI regulations mandates that the content of the commercial communication must be stringent to the line of business of the PE only.
As per the process we at WebXion has been made to understand that we have to get all our users registered on whichever telecom operator's connectivity we are using for SMS delivery. For e.g. If we are using Multi operator connectivity like Jio, Airtel, BSNL, Videocon, VI, Vodafone etc. then all our users have to register on all these operator's DLT Platform. We at WebXion also have to register as Telemarketer on all these operator's DLT Platform.
Rs.5900 has to be paid to the telecom operator as DLT registration charge. WebXion is Not taking that charge. Also we are getting the entities registered for free whenever the operators are giving us the communication of the same.
As we have multiple operator Connectivity we will try to pass on the maximum possible flexibility to our esteemed client's, but we (STPL) are the aggregators of SMS service wherein we are dependent on the telecom service providers like VILPOWER, Videocon (Smart Ping), BSNL, Airtel, MTNL etc. So in case these operators implement the rules strictly as per TRAI mandate then we will be forced to comply with the norms and will not be able to process SMS from Unregistered Entities.
No. Entity registration is only one of the steps, the Further Phase (2) and Phase (3) includes Header (Sender ID) registration and Content Template Registration respectively, which will be communicated soon.
In India, all major telecom operators offer DLT Registration services in India. Cost for DLT Registration differ from operator to operator.
Ajmer, Kochi, Mysore, Thana, Bareilly, Anand, Bangalore, Aurangabad, Allabhad, Indore, Ghaziabad, Noida, Surat, Delhi, Rajkot, Vadodara, Hyderabad, Kolhapur, Gwalior, Ahmedabad, Amritsar, Baroda, Bengaluru, Gurugram, Kota, Varanasi, Nasik, Cuttack, Dehradun, Jamnagar, Trivandrum, Thana, Ranchi, Nagpur, Jalgaon, Mumbai, Bhubaneshwar, Jaipur, Kanpur, Udaipur, Coimbatore, Jodhpur, Rajpur, Jhansi, Gorakhpur, Navi Mumbai, Lucknow, Faridabad, Bhopal, Aurangabad, Srinagar, Nasik, Gurgaon, Agra, Jalandhar, Meerut, Patna, Gurgaon, Nashik, Pune, NCR, Bharuch, Kolkata, Jabalpur, Chennai, Ludhiana, Vishakhapatnam,.
Andhra Pradesh (Amaravati), Arunachal Pradesh (Itanagar), Assam (Dispur), Bihar (Patna), Chhattisgarh (Raipur), Goa (Panaji), Gujarat (Gandhinagar), Haryana (Chandigarh), Himachal Pradesh (Shimla), HP, Jharkhand (Ranchi), Karnataka (Bangalore), Kerala (Thiruvananthapuram), Madhya Pradesh (Bhopal), MP, Maharashtra (Mumbai), Manipur (Imphal), Meghalaya (Shillong), Mizoram (Aizawl), Nagaland (Kohima), Odisha (Bhubaneshwar), Punjab (Chandigarh), Rajasthan (Jaipur), Sikkim (Gangtok), Tamil Nadu (Chennai), Telangana (Hyderabad), Tripura (Agartala), Uttarakhand (Dehradun), Uttar Pradesh (Lucknow), UP, West Bengal (Kolkata), India
If you are looking for DLT Provider then, you had visited right company website. Yes we do DLT Registration on behalf of our customers with telecom operators.
How to Appy DLT Registration
Telemarketer Registration