Bulk WhatsApp Company | Bulk WhatsApp Reseller Panel
Bulk WhatsApp Service Provider | Bulk WhatsApp Reseller
Bulk WhatsApp Service Provider for you !
Bulk WhatsApp Service Provider refers to a company that provider sending of large number of WhatsApp messages to multiple recipients at once. These services are typically used by businesses or organizations to communicate with their customers, clients, or members. The messages can be promotional, informative, or transactional in nature. If you are interested in using any bulk whatsapp service provider , it's recommended to research and choose a reputable provider that meets your specific needs and requirements.
As more and more people are using Smartphones it has become more relevant for business to use Bulk WhatsApp Services. And after WhatsApp has officially started offering WhatsApp Official API you can now send business-initiated messages to create your product and brand awareness. It's very easy and user-friendly to use Bulk WhatsApp Service to do lead generation and brand promotion and get campaign report at a click of button. With more and more business switching to Bulk WhatsApp Service there is high business opportunity for Bulk WhatsApp Resellers.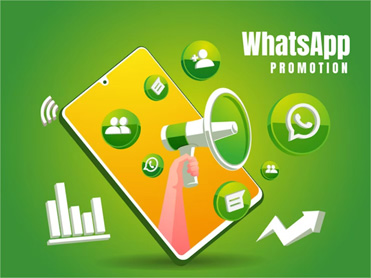 Bulk WhatsApp Reseller

having great business opportunity !

With more than 2 Billion Active WhatsApp users worldwide. Their is a huge business opportunity for Bulk WhatsApp Reseller. You as bulk whatsapp reseller has to only focus on connecting new leads and plan and execute their whatsapp campaigns. We have built robust and trusted IT infrastructure on WhatsApp Business API to ensure that once your customer account is successfully created and content is approved as per WhatsApp guidelines. You can run WhatsApp Campaigns at a click of a button. With new advancement being launched by WhatsApp in API from time to time you get automated updates in our Bulk WhatsApp Software System.

If you're looking to be a Bulk WhatsApp Reseller, it's important to choose a reputable and reliable Bulk WhatsApp Service Provider, who can offer you the services and support you need. Here are some factors to consider when choosing a Bulk WhatsApp Service Provider-
Compliance with WhatsApp policies: Make sure the reseller adheres to WhatsApp's policies and guidelines, especially regarding spam and bulk messaging. The reseller should be an official WhatsApp Business API provider and have a track record of compliance with WhatsApp's policies.
Services offered: Determine what services the reseller offers, such as message creation, recipient list management, and reporting. Make sure the reseller can provide the specific services you need for your business.
Integration capabilities: Check whether the reseller can integrate with your existing systems, such as CRM, marketing automation, or messaging platforms. Integration can streamline your messaging process and improve efficiency.
Pricing: Consider the cost of the services offered by the reseller, including any setup or maintenance fees. Compare pricing with other resellers to ensure you're getting a competitive rate.
Support and training: Ensure the reseller provides adequate support and training to help you use the WhatsApp Business API effectively. This can include technical support, account management, and training resources.
Reputation and reviews: Research the reseller's reputation and read customer reviews to gauge their reliability and quality of service.
By considering these factors, you can choose a bulk WhatsApp reseller that meets your specific needs and provides high-quality services for your business.
Our Bulk WhatsApp Services starts from 10K credits onwards !
The Best WhatsApp Services Company....
Bulk WhatsApp Service Provider vs Unlimited WhatsApp Sender Software
The Bulk WhatsApp Service Provider is a credit-based service on WhatsApp and an WhatsApp Sender Software is license dependent solution.

The Channel Dependency is not at the end of the line for customers, whereas the WhatsApp Sender Software customer has to scan QR Codes and enter their personal WhatsApp number to broadcast.

WhatsApp Sender Software claim to offer Unlimited WhatsApp capacity for sending messages, but it's not true since 100% of your WhatsApp number will be blocked by WhatsApp after you have sent a hundreds of messages.

Bulk WhatsApp Service doenot require installation, so there are no problem with software updates.

New features, such as Call Button or Menu options aren't available or do not function properly within WhatsApp Sender Softwares.Bulk WhatsApp Service does not have a daily limit for sending messages since it's highly scalable per campaign's sending requirements.

There is no need for manual monitoring for the Bulk WhatsApp Service since it is fully automated, and once a campaign messages are automatically broadcast through the server.

WhatsApp keeps updating its software and frequently WhatsApp Sender Software fail to work after the update of WhatsApp's application.

 

This isn't the situation with the Bulk the WhatsApp service.

If a campaign is conducted using WhatsApp Sender Software the sender channel is more likely to be blocked or banned by WhatsApp because the sending of static messages to unidentified numbers at a very fast rate results in blocking or the ban of WhatsApp numbers.
How does Bulk WhatsApp Service work?
Bulk WhatsApp Service can be done through various ways such as creating a WhatsApp business account, using WhatsApp API, or using third-party WhatsApp Sending Systems.
WhatsApp Business Account
The WhatsApp Business Account is a separate account for businesses that allows them to connect with their clients via WhatsApp. Businesses can set up a professional profile that includes their logo, business name as well as contact information. It also includes options like quick responses to messages that are automated, as well as labels for managing customer enquiries. To establish an account on WhatsApp Business Account Businesses must download the WhatsApp Business application through the store and sign up using their company phone number. After registering, they are able to make their profile public and add a profile photo and alter the settings. Businesses can utilize WhatsApp Business Account to send messages to prospective customers and customers and share updates on product launches or promotions, as well as respond to customer queries.
WhatsApp API
WhatsApp API can be described as a programmatic interface that allows companies the ability to connect WhatsApp in their current systems and automate their communication process. It lets businesses send messages to prospects and customers through their CRM or customer service systems. To utilize the WhatsApp API, businesses need to request access through WhatsApp and then get their approval from WhatsApp. They must also collaborate with an WhatsApp Business Solution Provider, who can provide them with the tools and assistance needed to make use of WhatsApp API.
WhatsApp API is suitable for companies that have a huge customer base and want to deliver personalized messages on a large scale. It can also be useful for companies that need automation, like sending out automated messages to confirm order confirmations or delivery updates.
Third-party Bulk WhatsApp Tools
Third-party WhatsApp marketing tools are software or applications that allow businesses to automate their Bulk WhatsApp Campaigns. They provide features such as bulk messaging, button options and analytics to track and measure the effectiveness of their campaigns. There are several third-party WhatsApp marketing tools available in the market, such as Bulk WhatsApp Sender Pro, WappBlaster, and WhatsApp Bulk Sender.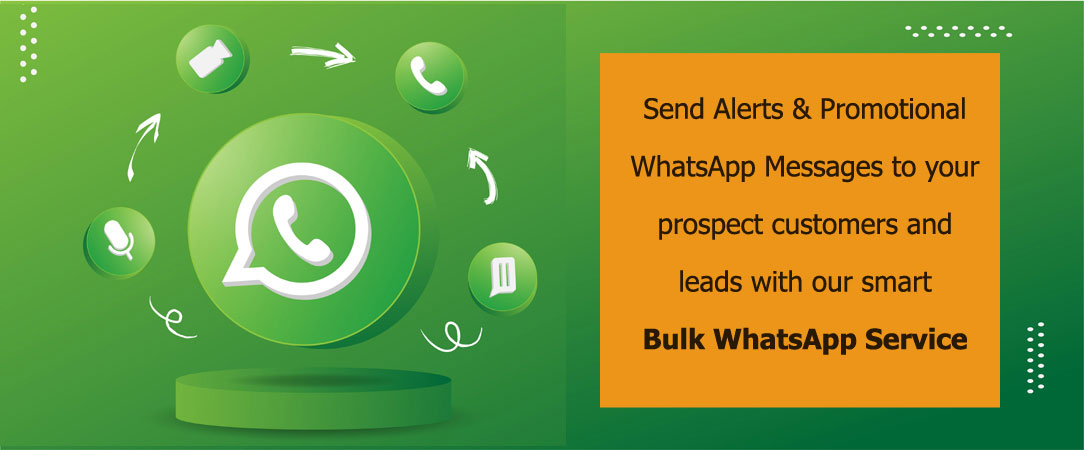 Bulk WhatsApp for Election Campaigns
Using Bulk WhatsApp Services for Election Campaigns can be an effective way to communicate with voters, share information about candidates and policies, and mobilize supporters. However, it's important to ensure that any messaging campaign complies with local laws and regulations related to political messaging and campaigning.
When using Bulk WhatsApp for election campaigns, consider the following tips:
Use a reputable provider: Choose a provider that is an official WhatsApp Business API provider and has experience working with political campaigns. Ensure that the provider complies with local laws and regulations related to political messaging.
Obtain consent: Ensure that all recipients have explicitly opted in to receive messages from the campaign. This can be done through sign-up forms or other means of obtaining consent.
Message content: Ensure that all messaging content complies with local laws and regulations related to political messaging. This can include providing disclaimers or other required information.
Personalization: Personalize messages where possible to increase engagement and connection with recipients. This can include using recipients' names or other personal information.
Timing: Consider the timing of messages to ensure that they are delivered at a time when they are most likely to be read and acted upon.
Reporting: Use reporting and analytics tools provided by the WhatsApp Business API provider to monitor the effectiveness of the campaign and make adjustments as needed.
By following these tips and working with a reputable bulk WhatsApp provider, election campaigns can effectively use messaging to connect with voters and mobilize support.


All About our WhatsApp Panel Features
Frequently Asked Questions
To become Bulk WhatsApp Reseller you need to fill registration form. And once your registration is completed you need to buy credits and post that you will get WhatsApp Reseller Panel to resell whatsapp service.
The main benefit is that it allows companies or individuals to broadcast large volumn of whatsapp messages in a single click. Its easy to use and give highest ROI compare to all other marketing solutions.
The cost is calculated per outgoing whatsapp message. Based upon volumn of whatsapp credits you buy costing of whatsapp package will be applicable. Contact our Sales team at +918657215533.
You need to ensure that your whatsapp campaign should not contain any hate speech / illegal product or service promotion / messages should not contain offensive content and shouldnot mislead users about product or service you are promoting via whatsapp. In any such case campaign will be discarded and account will be suspended.
Pune, Baroda, Vadodara, Delhi, Jaipur, Bhopal, Lucknow, Surat, Bharuch, Ahmedabad, Nasik, Aurangabad, Bengaluru, Bangalore, Chennai, Kolkata, Hyderabad, Noida, Kanpur, Nagpur, Ludhiana, Patna, Thana, Agra, Varanasi, Nashik, Nasik, Meerut, Faridabad, Allabhad, Amritsar, Vishakhapatnam, Ghaziabad, Rajkot, Jabalpur, Coimbatore, Srinagar, Aurangabad, Ranchi, Jodhpur, Gwalior, Trivandrum, Mysore, Navi Mumbai, Jalandhar, Bareilly, Kota, Bhubaneshwar, Gorakhpur, Rajpur, Kochi, Cuttack, Ajmer, Kolhapur, Dehradun, Jamnagar, Udaipur, Jhansi, Jalgaon, Anand, Thana, Gurgaon, Indore, NCR, Gurgaon, Gurugram.
Andhra Pradesh (Amaravati), Arunachal Pradesh (Itanagar), Assam (Dispur), Bihar (Patna), Chhattisgarh (Raipur), Goa (Panaji), Gujarat (Gandhinagar), Haryana (Chandigarh), Himachal Pradesh (Shimla), HP, Jharkhand (Ranchi), Karnataka (Bangalore), Kerala (Thiruvananthapuram), Madhya Pradesh (Bhopal), MP, Maharashtra (Mumbai), Manipur (Imphal), Meghalaya (Shillong), Mizoram (Aizawl), Nagaland (Kohima), Odisha (Bhubaneshwar), Punjab (Chandigarh), Rajasthan (Jaipur), Sikkim (Gangtok), Tamil Nadu (Chennai), Telangana (Hyderabad), Tripura (Agartala), Uttarakhand (Dehradun), Uttar Pradesh (Lucknow), UP, West Bengal (Kolkata)
Australia, Austria, Bahrain, Bangladesh, Belgium, Brazil, Cambodia, Canada, China, Colombia, Cuba, Cyprus, Czech, Denmark, Dominica, Dubai, Egypt, Ethiopia, Fiji, Finland, France, Georgia, Germany, Greece, Grenada, Hungary, Iceland, India, Indonesia, Iran, Iraq, Ireland, Israel, Italy, Jamaica, Japan, Jordan, Kenya, Korea, Kuwait, Kyrgyzstan, Liberia, Libya, Lithuania, Malaysia, Mexico, Mongolia, Myanmar, Netherlands, New Zealand, Nigeria, Norway, Oman, Pakistan, Palau, Panama, Philippines, Poland, Portugal, Qatar, Romania, Saudi, Singapore, South, Spain, Sweden, Switzerland, Syria, Taiwan, Thailand, Turkey, UAE, Uganda, UK, Ukraine, USA, Yemen, Zambia.
Wati, Interakt, Pinnacle, Pertinax, Fiverr, Opstechsolution, Ops Tech, Teleosms, Dreamworth, Cellcommnext, Brainpulse, Global Advertising, Webmatriks, Global Websoft, Digital Soch, Sendpulse, Oxygenites, Insta Info Solutions, Skylinesms, Uberbrains, Cloudshopetechnologies, Movesoft, Nestsoft, Verloop, Getitsms, Web2sms, Ozenetel, Wowinfotech, Siddigital, Btn Infosolution, Digibrood, The Future Tech, Brightpixel, Smsgatewayhub, 360dialog, Gupshup, Freshdesk Twilio, Aisensy, Textlocal, Respond, Landbot, Verloop, Valuefirst, Sleekflow, Engati, Chatwoot, Ultramsg, Solidale, Sinch, Messagebird, Kaleyra, Vonage, Route Mobile, Clickatell, Mtalkz, Infobip, Messagebird, Knowlarity, Trueline, Delightchat, Whatso, Radhe Solution, Kovaion, Ampala, Codecanyon, Quora, Mart2global, Wabotso, Ideasms, Rapbooster, Double Tick, Delightchat, Trengo, Rpmsms, Softtechgroup, Truelinessolution, Nationalbulksms, Cloudwhatsapp, Bulkwhatsapp, Leadmyntra, Solotalkdigital, Click2surat, Ideastack, Whatsappblaster, Whatsappmarketing, Smsmyntra, Mart2global, Whatsappworld, Ideastack, Netcore, Sarv, Softcore, Softcron, Digisoftwar, Isofttech, Yellow, K3digtialmedia, Global Gymsoftwares, Smscon, Radhe Solution, Wstool, Q-sender, Bulkwasender, Satya, Send In Blue
Bulk WhatsApp Service Provider
Election Whatsapp Service
Unlimited WhatsApp Sender Software
WhatsApp Blaster Software
Send Political Campaign on WhatsApp
Bulk WhatsApp Reseller Panel
2023 Assembly Elections WhatsApp Campaign
Send WhatsApp Campaign for Political Parties
Political WhatsApp Campaign
WhatsApp Campaign for Elections
Bulk WhatsApp For Political Parties & Election Campaigns
2024 Elections WhatsApp Campaign