Paperless Visitor Management System for Companies | Paperless GatePass System for Factory
"

Visitor Management System for Companies

" / "GatePass System for Factory": [

Android

/

Iphone

]
Most of the companies already have visitor management system which is paper slip based visitor entry system. However due to this Corona virus pendemic we all need to be very careful, and ensure that there is paperless interaction between you and visitor. Typical old paper based visitor entry pass are now high health safetly risk concerns for every organization, as your staff can easily get covid-19 virus infection from this paper entry slips as well. Hence to ensure your staff don't get infected by COVID-19 virus, we have ready to use paperless mobile app visitor management system which supports both SmartPhone / Tablets & even come with webbased admin portal. Our smart app based visitor management system for compaines or gatepass system for factory ensures you and your staff members are complete safe with no physical contact required because of this visitor management mobile app .
There are many websites that sell visitor managment software on internet , but most of them are desktop based and don't support mobile app or charge you extra for that. However our solution is built using latest technology and come with many highend features to ensure you have complete visitor management system at affordable price.
Start using Visitor Management App in just 3 Days!
No waiting for months to have an App. Easy to Use and fits your budget.
---
1 - Stay Safe
Go Paperless - Stop Corona Virus !
No Physical Contact, Keep Safe Distance.
2 - APP IN YOUR CONTROL
All your visitor data is safe and secured, have unlimited visitors records.
3 - GO LIVE INSTANTLY
Our highend app based Visitor Management System is easy to use.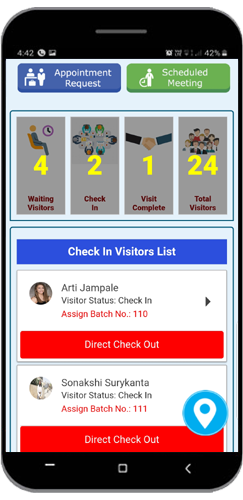 ---
App based Visitor Management System comes with smart features. This is paperless entry pass system hence your security personal and internal staff is completely safe as no physical touch is required. Also you get real-time update about visitor entry along with visitor profile. Save visitor time and ensure you have complete visitor history available at a click of button.
Say NO to PaperSlip Entry Pass - Use Visitor Management System App !
---
Key Features of Visitor Management System App
User Friendly App for Security Guard
Easy to use App for Security Guard, And ensure visitor details are capture quickly in less than a minute.`
Touchless & Paperless Visitor Entry
Stay safe from Covid-19 Virus is our highest priorty. No Physical touch required and Paperless Gatepass.
Customer Support and Training
We understand that there might be situation where you need our technical assistance or future enhancement in app.
Get Web Based Admin Portal to Manage Guards
We provide Web-Based Admin Portal to give you full control to manage security guard accounts at single or multiple locations.
App that is just perfect for your Organization
Our VMS System supports large organization that have mult-location facilities also. And each location Sub-Admin managers its staff.
100% Secured & Trusted Solution
Your data is secured & encrypted you can be 100% assured about quality of service and support by WebXion Team.
and more...
If you are interested to know how you can manage app content from Admin Portal. And what all features are available in this app.
Contact Us @ +91-8657215533 today.
All our services are Pre-Paid. We have following payment options available :
Direct Net Banking
Credit Card
Debit Card
Bank Transfer via SWIFT Code
For App Customization you need to pay 70% advance and 30% before go-live.
Snapshots of Visitor Management System all three modules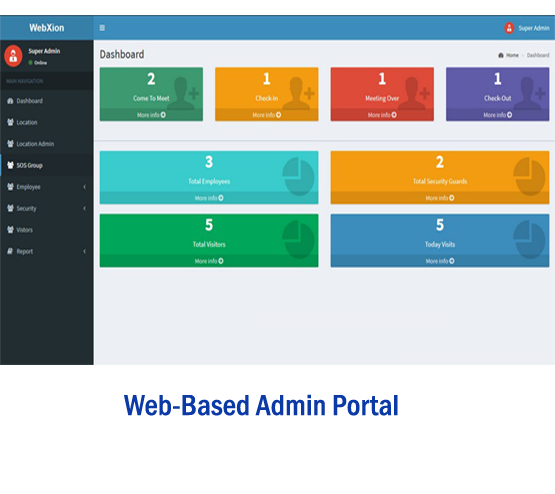 Service Sector | Manufacturing Industry | Customer Service Center | IT Companies | Educational Institutions | Financial Services | Co-Working Space | Medical & Health Care Sector | Real Estate | Offices and Factory | Event Management Services
Visitor Management App for Factory | GatePass Software for Factory | Touchless Visitor Management App for company | Reception Management App for Office | Visitor Management System for Factory | VMS Application for Company | Appointment Booking System for Office | Meeting Booking System for Office | Factory Visitor App | Security Cabin App
Abu Dhabi, Australia, Austria, Africa, Argentina, Bahrain, Bangladesh, Belgium, Brazil, Cambodia, Canada, China, Colombia, Cuba, Cyprus, Czech Republic, Denmark, Dominica, Egypt, Ethiopia, Fiji, Finland, France, Georgia, Germany, Greece, Grenada, Hungary, Iceland, India, Indonesia, Iran, Iraq, Ireland, Israel, Italy, Jamaica, Japan, Jordan, Kenya, Korea, Kuwait, Kyrgyzstan, Liberia, Libya, Lithuania, Malaysia, Mexico, Mongolia, Myanmar, Netherlands, New Zealand, Nigeria, Norway, Oman, Pakistan, Palau, Panama, Philippines, Poland, Portugal, Qatar, Romania, Saudi Arabia, Singapore, South Africa, Spain, Sweden, Switzerland, Syria, Taiwan, Thailand, Turkey, Uganda, United Arab Emirates, United Kingdom, UAE, Dubai, United States, US, USA, Yemen, Zambia.
Client Testimonials
We had been looking for good Visitor Management App at affordable cost. Also we wanted it to work in multi-location setup.

Thank you WebXion for meeting our expection.
We had used paper print based VMS Software in past, however features we got in this App had been highly satisfactory.

Keep up good work guys - WebXion Team