Best Boutique App | Best Fashion Store App
My "Garment Catalog App" / "Boutique App" : [

Android

/

Iphone

]
Are you into Garment Business ? Are you looking forward to expand your business by selling cloths directly on App under your Brand Name ?
We all know almost everyone is using smartphone and people find it more easy to do shopping on Mobile Apps then visiting store. And each festive season we see lower number of customers visiting physical stores then previous years. But that doesn't mean customers have stopped buying new cloths. But infact people are buying dresses more frequently, however way of buying cloths has changed. And we like it or not, more and more customers perfer to shop on mobile apps then visiting stores with each passing year.
Now a day's customer's think, seating on sofa and buying dress on Garment App is more easy and convenient. So, as a garment store you should also sell them dress via your garment store app. After all Sales Matter, Not how dress got sold (online on Garment Catalogue App or Customer visiting store personally). If customers way of buying has changed, as sellers we should also change our way of selling !
At WebXion, we think in best interest of Garment Wholesaler's / Retailer's / Showroom / Boutique owner, and hence we have built ready to use Mobile App for Fashion Store's / Mobile App for Garment Store's / Mobile App for Boutiques. That means, now your garment store is also available in your customers smartphones. And since you have physical store presence too, its obvious your customers will feel more comforable buying via your app then any 3rd party app. Also you can start your own Drop Shipping / Garment Reselling Business Network which is popular among ladies where in they promote your dress within there Social Networking Group via Apps and then earn margin in reselling your garments.
Get your own Garment Store App in just 1 Week !
No waiting for months to have an App. Easy to Use and Fully Customizable.
---
1 - PERSONALIZED BRANDING
Own App with your Logo, Customize Look & Feel
2 - APP IN YOUR CONTROL
Upload and manage unlimited products & images freely
3 - GO LIVE INSTANTLY
Its time to grow business smartly !
---
Mobile App for Boutiques can do lot more than just be an Garment Catalogue App to display garments. You can List/Manage items, Sell Online or COD, do mass promotion to all user about new Offers / Sale / Discounts, you can update Shipping status, do instant promotion on social networking sites and apps and lot more. Also we give you full control to manage and control what all information you want to show within your Clothing App. No need to be dependent on us to make changes within app content. No Technical or Programming Knowledge required... Our motive is to make your life easier. Grow Sales ! Grow Business !!
Time to start your own E-Garment Store / E-Boutique ?
---
Key Features of My Garment Catalog App
User Friendly Admin Portal
Access Online , Anywhere Anytime and View and Respond instantly via Admin Portal
Value for Money App
You can now own this app at very cost effective rate. To know more about costing contact us today !.
After Sales Support & Technical Assistance
We understand that there might be situation where you need our technical assistance or future enhancement in app.
Fully Automated & Easy to Use
Our solution works as a fully automated system and doesn't require any IT expertise to manage this app independently.
Your App, Your Control
We provide Web-Based Admin Portal to give you 100% control over your app content.
App that is just perfect for you
In our app you can create Unlimited : Categories / Sub Categories / Items / Users / Orders & Item Images
Manage & Control App User
Its your choice ! You wish to allow App Registration Form open to all or only create app users from Admin Panel. Also deactive any user instantly.
100% Secured & Trusted Solution
Your data is secured & encrypted you can be 100% assured about quality of service and support by WebXion Team.
and more...
If you are interested to know how you can manage app content from Admin Portal. And what all features are available in this app.
Contact Us @ +91-8657215533 today.
All our services are Pre-Paid. We have following payment options available :
Direct Net Banking
Credit Card
Debit Card
PayPal
Bank Transfer via SWIFT Code
For App Customization you need to pay 70% advance and 30% before go-live.
---
Snapshots of My Garment Catalog all three modules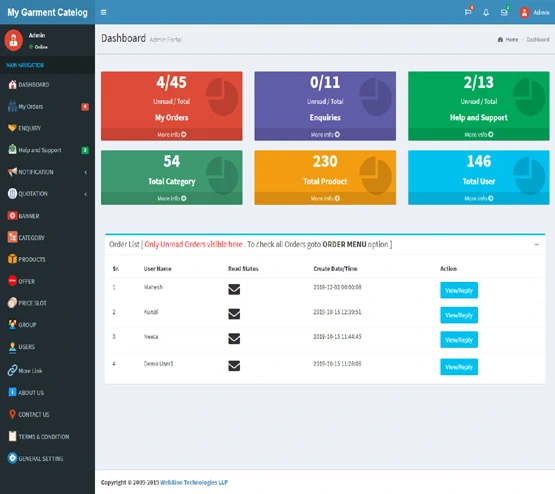 Web-Based Admin Portal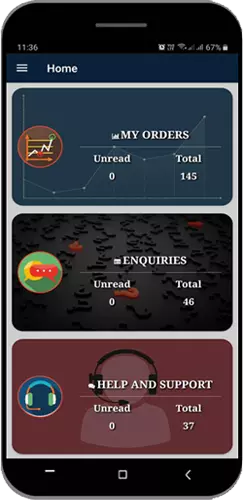 Admin
Android App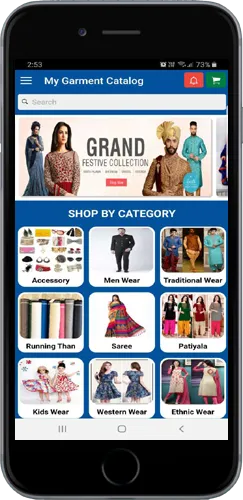 Your Buyers
My Garment Catalog : Android & Iphone App
Garment Wholesalers | Garment Retailers | Garment Shops | Garment Stores | Cloth Boutiques | Cloth Shops | Dress Material Stores | Online Fashion Store
Garment Catalogue App | Mobile App for Boutiques | Garment Catalog App | Boutique App | Cloth Seller App | Garment Sellers App | Best Garment Catalog App | Drop Shipping App | E-Garment Store | Garment Wholesalers App | Dress Catalog App | Fashion Store App | E-Boutique App | Garment App | Mobile App for Boutiques | Boutique Mobile App | Clothing App | Need Mobile App for Garment Store | Fashion App for Fashion Store | Garment Retailers | Clothing Retail Store App | start your own garment app store | Create a Shopping App | How to make online store app | How to Start a Clothing Store | make garment store app | Build Apparel | Clothing Retail Store App | Build Fashion App | Create a shopping app | Sell Clothes Online | How to Start an Online Clothing Store | Make App for your Clothing Business | create online store app free | create online store app free | how to make online shopping app.
Abu Dhabi, Australia, Austria, Africa, Argentina, Bahrain, Bangladesh, Belgium, Brazil, Cambodia, Canada, China, Colombia, Cuba, Cyprus, Czech Republic, Denmark, Dominica, Egypt, Ethiopia, Fiji, Finland, France, Georgia, Germany, Greece, Grenada, Hungary, Iceland, India, Indonesia, Iran, Iraq, Ireland, Israel, Italy, Jamaica, Japan, Jordan, Kenya, Korea, Kuwait, Kyrgyzstan, Liberia, Libya, Lithuania, Malaysia, Mexico, Mongolia, Myanmar, Netherlands, New Zealand, Nigeria, Norway, Oman, Pakistan, Palau, Panama, Philippines, Poland, Portugal, Qatar, Romania, Saudi Arabia, Singapore, South Africa, Spain, Sweden, Switzerland, Syria, Taiwan, Thailand, Turkey, Uganda, United Arab Emirates, United Kingdom, UAE, Dubai, United States, US, USA, Yemen, Zambia.
Client Testimonials
We had been looking for ready to use Garment Catalog App at affordable cost. Also we wanted to start our own Cloth Reselling Business

Thank you WebXion for meeting our expection.
We had tried many different online solutions in past, however results we got from WebXion : My Garment Catalog App had been highly satisfactory.

Keep up good work guys - WebXion Team