My Product Catalog App : Industries / Manufacturing Companies / Distributors
Let's assume your company produces multiple types of products. And you keep updating and adding new products from time to time. So each time you update product list you need to ensure all your buyers get instant updates on Offers / Price List / Product details automatically without any manual follow-up. And our app "My Product Catalog" or Product Catalogue App fulfils this key expectation of yours.
Once your buyers whom you grant permission to use your app, installs your app they automatically get latest product details and standard pricing information directly on mobile. And anytime as a company you intend to add / remove / modify product or pricing information, all buyers (your app users) will get latest information updated automatically.
Your buyers (your app users) can now place order online via your My Product Catalog App and you can respond instantly by generating quotation and send quotation using your Sales Admin App or Admin Web Portal. This saves your time / manpower and increase productivity.
Our My Product Catalog has 3 Modules, that you would get along with this App !
Web-Based Admin Portal for your company.
Android Sales Team App for company again. However motive of android sales app is to give limited but critical access to your sales team to view and respond to sales leads, even when they are not in front of laptop.
End-User My Product Catalog : Android / IOS App meant for customers of your company
The MyProduct Catalog App that you see in playstore or istore is a prototype of buyer (your app user) App. If you need any additional features that are not available in this prototype version. Don't worry we can always add additional modules in this app for you to meet your business requirement.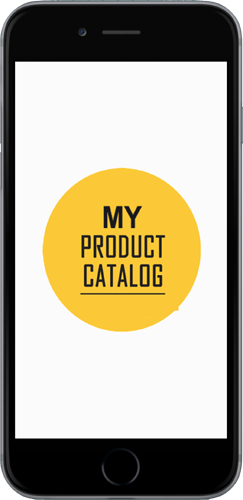 Our App can also be customized to send information directly from our App to your existing CRM / ERP system. This will ensure you can continue to use your existing IT infrastructure and yet avail benefits of smart App based solution to grow and manage your sales more efficiently.
Are you planning to have My Product Catalog for your Business !
The Best Selling E-Catalogue / E-Brochure App is here....
Why you should use My Product Catalogue for your Business ?
There are multiple valid reasons why we recommend clients to use our App. Below are few key points hope you would be able to relate to these more effectively
Mobile Apps based online E-Catalog / E-Brochure / E Catalogue is future. If you intend to be known as Brand within your competitors you need to think smartly and go online today !
You can do lot more using our App then just displaying Categories / Products using our App.
You get complete Personalized Company Branding like - App Icon , App Name, Your Brand Logo, App Theme Colour customization at No Additional Cost
Your App Data and Your Client information is 100% secured in your dedicated server only. This is dedicated App based solution that is personally customized for each company individually. And hence its fully safe and secured.
Everyone is using SmartPhones these days and with Low Cost + High Internet speed available almost everywhere. Your buyers prefer to use Mobile Apps to do task more quickly.
Using Web-Based Admin portal you get 100% control over your App content and App Users too.
We offer our solution with One-Time Application Hosting and Customization cost. And minimum annual hosting fees only.
You have 100% control to change / modify / delete / edit content within your app at your free will using Admin App Portal. Hence no dependency on us to update your app data. You can manage your app independently.
---
Limitation of Product Website / E-Brochure
A regular Product based Website is meant to be openly accessible to all. Hence even your competitors or other people can see your product details like, its pricing and technical details. And you have no control over your product critical information privacy.
Mostly to place order from website means filling generic contact us form. Then sales person will call back to verify person details and take sales process further. That means waste of crucial business hours and high chance you might miss lead if email goes in Spam.
You need to be dependent on your website developer to make changes in products list or information from time to time. And each time you make changes in your website you need to inform or notify all your end-user to view changes again.
There is no way you can send mass notification to your web-visitors to inform or communicate about your new product launch till they visit your website again.
A generic website has only Homepage , About Us, Product List, Contact Us pages only


Highlights of My Product Catalog App
To access your product portfolio on app the buyer needs to sign-up then access data, hence you have 100% visibility who is accessing your products and hence you control product information sharing at your free will you can either allow our disallow access to user to your app.
Your App data is visible only to authorized buyers or verified buyers only. Hence you get complete contact details of buyer instantly. Also buyer can place order for specific product instantly by selecting product , its quantity and sharing other details.
Our user-friendly web-based portal give you easy to use and manage functionality to control all your app content and information. Also any changes you make from Admin Web-Portal will be real=time visible in all End-Users App instantly and automatically.
From Admin Web-Portal or Sales Team App you can send Mass notification with attachment anytime to all your app users instantly.
In our App you get free Mini-website features by default like : HomePage Banner Images, About Us Page, FAQ Page, Contact Us page with inbuilt Google Map integration, Active Clickable Mobile Number and Email Id, Terms & Condition Page . And all these pages are fully customizable too.
---
Key Features of My Product Catalog App
User Friendly WebPortal
Access Online , Anywhere Anytime and View and Respond instantly via App
One-Time Investment, Lifetime Use
No need to worry about recurring subscription fees. Buy one-time and have 100% control over your app content
Get, Track & Convert Business Opportunities
You get business opportunities as NEW LEADS or NEW ENQUIRES or NEW MESSAGES all within App instantly.
Fully Automated & Easy to Use
Our solution works as a fully automated system and doesn't require any IT expertise to manage your app independently.
Your App , Your Control
We provide Web-Based Admin Portal to give you 100% control over your app content.
Our App has No usage Limits or Restrictions
In our app you can create Unlimited : Categories / Product List / Users / Send or Receive Notifications / Generate Quotation
View and Control your App User independently
Your Client Base is your Gold Mine. Hence as Company you will control and manage your app users profile independently.
100% Secured & Trusted Solution
Your data is secured & encrypted you can be 100% assured about quality of service and support by WebXion Team.
and more....
We offer custom plans to meet all types of client requirement. For SME sector we have cost effective solution and customization options available to meet your exact business expectation at fraction of entire solution development cost.
All our services are Pre-Paid Plans. We have following payment options available :
Direct Net Banking
Credit Card
Debit Card
PayPal
Bank Transfer via SWIFT Code
Your account would be live within 30 mins of payment confirmation during Business Hours.
---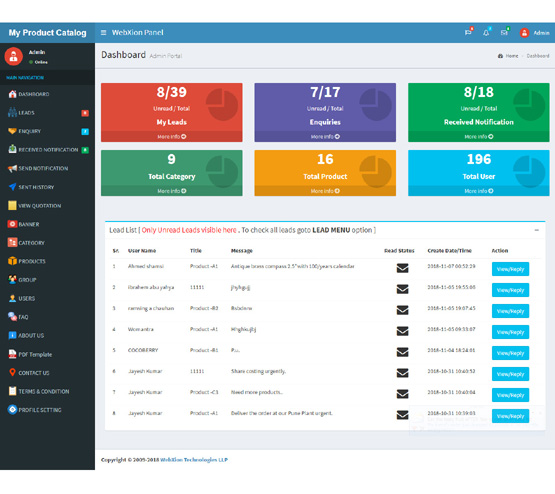 Web-Based Admin Portal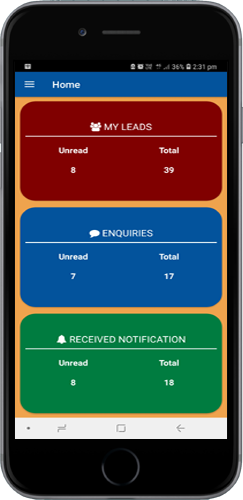 Your Sales Team
Android App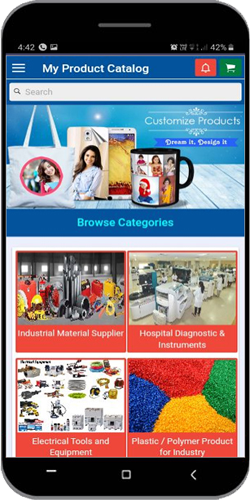 My Product Catalog : Android & Iphone App
Industries | Manufacturing Companies | Distributors | Traders | Sales Agencies | Retailers
My Product Catalog App for Business, Digital Catalog App, E-Catalog App, E-Brochure App, B2B Product Listing App, Product Catalog App, Business Catalog App, Product List App for Manufacture, Products List App for Traders, Products List App for Business, Product List App for Distributors, Smart Product Portfolio App for Companies, Online Catalog Services, E-Brochure Service, Built Product Catalogue, Built Product Brochure,Product Catalog For B2B, Product Catalog For Manufacturers, Product Catalog For Traders, Digital Catalog For B2B, Digital Catalog For Manufacturers, Digital Catalog For Traders, B2B Catalog
Australia, Austria, Africa, Argentina, Bahrain, Bangladesh, Belgium, Brazil, Cambodia, Canada, China, Colombia, Cuba, Cyprus, Czech Republic, Denmark, Dominica, Egypt, Ethiopia, Fiji, Finland, France, Georgia, Germany, Greece, Grenada, Hungary, Iceland, India, Indonesia, Iran, Iraq, Ireland, Israel, Italy, Jamaica, Japan, Jordan, Kenya, Korea, Kuwait, Kyrgyzstan, Liberia, Libya, Lithuania, Malaysia, Mexico, Mongolia, Myanmar, Netherlands, New Zealand, Nigeria, Norway, Oman, Pakistan, Palau, Panama, Philippines, Poland, Portugal, Qatar, Romania, Saudi Arabia, Singapore, South Africa, Spain, Sweden, Switzerland, Syria, Taiwan, Thailand, Turkey, Uganda, Ukraine, United Arab Emirates, United Kingdom, UAE, Dubai, United States, US, USA, Yemen, Zambia.
Pune, Mumbai, Baroda, Vadodara, Delhi, Indore, Jaipur, Bhopal, Lucknow, Surat, Bharuch, Ahmedabad, Nasik, Aurangabad, Bengaluru, Bihar, Chennai, Kolkata, Hyderabad, Noida, Kanpur, Nagpur, Ludhiana, Patna, Thana, Agra, Varanasi, Nashik, Meerut, Faridabad, Allabhad, Amritsar, Vishakhapatnam, Ghaziabad, Rajkot, Jabalpur, Coimbatore, Srinagar, Aurangabad, Ranchi, Jodhpur, Gwalior, Chandigarh, Trivandrum, Mysore, Navi Mumbai, Jalandhar, Bareilly, Kota, Bhubaneshwar, Gorakhpur, Rajpur, Kochi, Cuttack, Ajmer, Kolhapur, Dehradun, Jamnagar, Udaipur, Jhansi, Jalgaon, Anand, Thana, Gurgaon, Indore, NCR, Gurgaon, Gurugram.
Client Testimonials
We had been looking for ready to use Product Catalog App at affordable cost.

Thank you WebXion for meeting our expection.
We had tried many different online solutions in past, however results we got from WebXion : My Product Catalog App had been highly satisfactory.

Keep up good work guys - WebXion Team